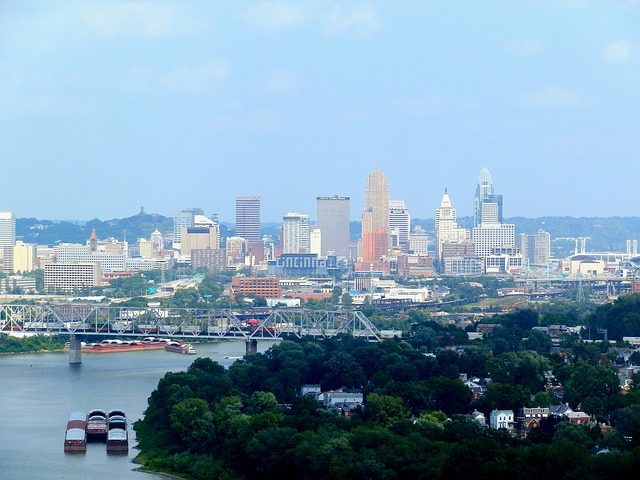 Here in Cincinnati, like in other big cities, commercial structures have a variety of roofing materials, and each type has specific installation and repair requirements. And just like with residential roofing, these products will eventually require repair or replacement for a variety of reasons. Whether it's metal roofing, asphalt roofing or rubber roofing, roofs of commercial buildings will deteriorate and leak over time, leading to the need for roof repair for your business. Understanding more about these roofing materials is important in order to keep your business, your clients, and your team safe and secure.
What Kind of Care and Repair Do Commercial Roofs Require?
Metal Roofing
While metal roofs can be beautiful and offer considerable protection from the elements, including the sun's rays, they can also become a problem. The metal panels that make up the roof can become loose or rusty, and both of these conditions could create severe problems. Metal roof panels may need to be refastened more securely, or they may need to be replaced if they deteriorate or become damaged. Loose panels will allow rain to enter into the sub-roofing and into the building. The result could be the destruction of roof insulation or structural damage to the building.
Asphalt or Built-Up Roof
Commercial asphalt roofs are made by applying hot asphalt to a roof's surface. It can be difficult for some installers to create the proper seal at connection points and along the seams. Other areas that are often compromised are the areas around vents. Thus, it is often necessary to repair this type of roof by applying hot asphalt to areas where the asphalt is missing or is too thin to be effective.
Rubber or EPDM
EPDM is a common material found on commercial roofs. It is comprised of synthetic rubber pieces that are connected together by a blowtorch to form one continuous rubber membrane. This is a good, reliable roofing product, but if it develops openings in the seams that allow water to enter the sub-roof, then these areas must be repaired. This rubber roof repair often requires the material to be patched, as well, as it deteriorates due to exposure to the elements.
Routine Roof Inspections Can Help to Avoid Issues
Anytime a building owner notices a potential issue with a roof or a leak, a commercial roof expert should be called quickly to inspect the area, determine if and what fixes are needed, and provide solutions to best remedy the situation. That said, the best way to avoid roof issues is to proactively stop them before they happen. Thus, it is a good idea to have a commercial roof inspected annually to determine if repairs are needed, before they lead to a bigger issue. Prevention is key!
Roof Material Recommendations
If it's time to replace the roof because of age or damage, it may be time to consider using a different material. Depending on your geographic area and the needs of your particular commercial property, you may have several commercial roof material options available. However, not all commercial roofing products are equivalent. An experienced roofing contractor can recommend the best commercial roofing product for any building, based on its age, use, geography, and particular stresses or challenges.
Call a Dependable Cincinnati Commercial Roofing Company
Repairing the roof on a commercial building can be very expensive, and your ability to continue to serve your customers depends on getting your roofing needs taken care of quickly, affordably, and correctly. This makes it all the more important that precautions are taken to ensure that any damage to the roof is discovered and addressed quickly to avoid unnecessary expenses and damage to the building's interior. Because this type of work is important and can be complex, it is essential that an experienced roofing repair company do the work. If you have commercial roofing needs in the Cincinnati area, call Harper Siding and Roofing at 513.444.6098 for more information and to set up a FREE ROOF INSPECTION.